Due to record demand coupled with longer lead times from many raw materials suppliers as well as global shipping delays in the ocean freight industry, many of our items are currently low in stock or on back order. We may be temporarily out of stock on some items, but rest assured all our items are on order and we are working to re-stock items as quickly as possible. We appreciate your patience and understanding during this time.
Welcome to IntelliStage.com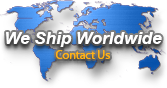 ATTN ALL US DEALERS: Please call for a freight quote, NO free freight on Staging-101.
copyright ©2021 intellistage.com all rights reserved